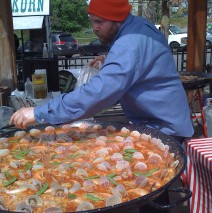 Fairhaven Fish Chowder
Author:
Eat Local Fish Portland Maine
Ingredients
3 lbs hake
1 quart diced potatoes
¼ teaspoon cloves
1 tbspn. thyme
1 tbspn. marjoram
1 bay leaf
½ lb lean salt pork, diced
1½ cups canned diced tomatoes
1 tbspn sage
5 soda crackers
salt and pepper to taste
Instructions
In a large stockpot, simmer the fish in salted water and cool. Remove skin and bones if any. Save cooking water and set fish aside.
Boil potatoes which have been peeled and diced into ½ inch cubes in the same water that was used for cooking the fish. Watch potatoes carefully and do not overcook or they will become mushy.
Grind or chop the pork using a meat grinder or cleaver. Or slice the porink into ¼ inch pieces. Saute pork in a skillet until golden. chop onions and garlic and add continuing to cook for several minutes but do not allow to brown. Add this mixture to the potato in the stockpot.
Add canned tomatoes, boil 2 minutes, then add the flaked fish. Boil for another 3-4 minutes and season with salt, pepper and paprika.
Crumble soda crackers and sprinkle over all seasoning.