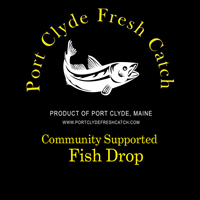 Scroll Down To Place Your Order
Welcome to our Community Supported Fish Drop. This is a new model for the CSF program.  There will be no upfront costs, you can decide what to buy weekly from our list of offerings.
Pick up at one of our delivery locations with no shipping charge or have an order shipped to your door for an additional shipping charge.
New! order by phone or email, call 207-691-4154 or email us at support@portclydefreshcatch.com
We have changed the ship to your door orders for Port Clyde Fresh Catch CSF.
1: Choose from 1 to 10 items, fresh or frozen from the order page.
2: Select "Ship to your door charge" from the order page. This will cover all shipping and packaging within the ground shipping zone.
UPS ground orders will be shipped to you from Maine to Virginia, West Virginia, Ohio and everywhere in the US in between. If you want to place an order to be shipped beyond this zone please call 207-691-4154, additional shipping charges will apply beyond this zone.
3: Select "ship to your door" as your delivery location when you check out from the shopping cart.
4: Email us your shipping address and any questions or requests you may have at support@portclydefreshcatch.com
5: We will contact you to let you know when your order will arrive and answer any questions you may have.
Fish Drop CSF ordering for all pickup location orders this week ends Thursday 4/27 @ 8 am

We currently have 8 pick up locations. These are in Port Clyde Maine, Camden Maine, Rockland Maine , Rockport Maine, Monhegan Island Maine, Belfast Maine, Willow Pond Farm Sabattus Maine, Morris Farm Wiscasset Maine
Coming in June, Crystal Spring Farm CSA in Brunswick will be offering Port Clyde Fresh Catch fish deliveries! Pick up day will be Friday and we plan to deliver once per week.
Port Clyde Location is at our store, on the way to the lighthouse. Friday/ Saturday 9-1
Camden, Megunticook Market, 2 Gould Street, Camden Maine Saturday 2-4
Island Institute Employees only, Rockland Maine, Pick up Fridays
Monhegan Island, Saturday AM boat
Penobscot Bay Medical Center, employees, and staff only, Friday after 2 pm in the cafeteria
Belfast Coop Store, Belfast, Maine, Saturday after 11 am
Willow Pond Farm, Sabattus Maine, First pick up date is June 15th.
Morris Farm, Wiscasset Maine, Fridays after 2pm
Fish Drop CSF ordering for all orders this week ends Thursday 4/27 @ 8am

Thank you for your interest in our CSF New items will be added as the boats come in, please check back here regularly for updates.