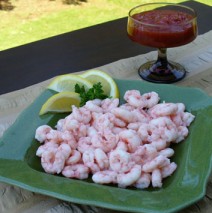 Buy Fresh Maine Shrimp
|Port Clyde Fresh Catch is a Maine Fishermen's Cooperative|
We are currently out of Maine shrimp.Maine Shrimp are seasonal and can only be caught during the winter months.
Shrimp biomass is notoriously cyclical. Some years there are plenty of shrimp and the price is low and some years the shrimp are less plentiful and the price is higher. This is one of the less plentiful years.
The shrimp stock is well regulated and catch limits ensure that fishermen do not remove more shrimp from the ocean than is bilogically sound.
Please refer to the list of available products listed on the right, fill out the email form below, let us know what you would like to order and we will get back to you shortly.
Thank you!
Please scroll down to review shipping information
Get Your Maine Shrimp!

Ground transport shipping rates
orders must be 10, 15, 20# sizes
Yellow zone arrives next day
Brown zone arrives second day
Shipping cost
For areas in the yellow or brown zones
Includes Packaging
Order size, 10#=25.27 15#=26.60 20#=27.60
For orders larger than 20# or
outside of the brown or yellow zones please
call 207-372-1055